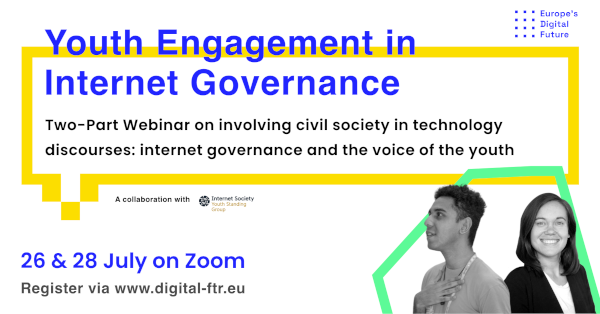 Einladung zum zweiteiligen Event "Internetgovernance and the Voice of the Youth"
Einladung zum zweiteiligen Event "Internetgovernance and the Voice of the Youth"
Want to engage in technology policy but don't know how? We are Europe's Digital Future e.V. and this is your chance to learn about ways in which you can! Our online event on internetgovernance and youth participation on 26 and 28 July will give you insights on how and why to engage in public discourse on technology topics. We want to exchange ideas and experiences on youth engagement programs and ways to effectively engage in policy discourse. (Full description below)
You can register for both events via the following link: https://forms.digital-ftr.eu/index.php/881319?lang=en
Young people will be affected by technological change and innovation for the longest time. Nevertheless, most decisions about technologies and investments in technology policy are made by significantly older decision-makers. In some policy areas, youth perspectives have increasingly been included in the discourse, for example in internet governance.
In this Mini-Series, we discuss youth participation and its effectiveness in the sphere of Internet Governance and beyond. We will learn from both high-level experts and experienced youth ambassadors what they perceive to be effective ways for young people to engage and which developments they expect in the future.
Part I: What is Internet Governance and why should we engage? (26 July, 5-6:30pm)
In the first event, representatives Elisabeth Schauermann and Adam Peake who have long been involved in the multi-stakeholder process introduce their work in Internet Governance and motivate why civil society and youth engagement matters. Of course, the event will include time for questions and active discussions.
Part II: How can young people effectively engage in international technology policy discourse? (28 July, 5-7pm)
In this workshop in cooperation with YouthSIG, eight experienced youth representatives from across the world will join us to discuss best practices on how to engage effectively in international technology policy discourse. They will share their previous experiences and positions as youth representatives in various organizations and give advice on how to get involved. The event will have an open and interactive character to enable joint deliberation.
We would love for you and your community to join both events! You can find more details on our website or LinkedIn. See you soon on Zoom!
https://digital-ftr.eu/internet-governance-and-the-voice-of-the-youth-1-2/
https://www.linkedin.com/events/thevoiceoftheyouth-internetgove6950395913412485121/comments/
About Europe's Digital Future: We are a europe-wide society aiming to connect and inspire a diverse and curious community of young Europeans to shape multidisciplinary discourse on digital technologies of the future. We do so by creating an idea, learning and action hub for digital natives to shape a socially sustainable digital future of the continent.